Please sign in so that we can notify you about a reply
Celebrate the light! Sunrise over the ocean colored single pole light switch cover! Bright and cheerful functional Art. Make a statement when you turn on - or off - the light!
What: Hand painted kiln-fired vitreous (glass) enamel on copper
Size: 4-5/8"w x 4-1/2"h - Standard size double pole light switch cover plate.
Colors: white enamel stenciled Black Locust tree leaves over a wash of blues, aquas, greens, yellows, and golds.
Use: Something cheerful for you to see when you enter or leave the house.
Screws included. DO NOT OVER-TIGHTEN!! The plate is slightly distorted due to expansion/contraction of fired enamels, it will not sit perfectly flush against the wall depending on your switch box.

Vitreous enamel is melted glass ~ it's not paint. Please care for enameled décor as you would any fine art glass.

Two available, both very similar. Colors vary depending upon firing times and temperatures. Also allow for color variations from one electronic device display to another. Colors may appear different in person than what you see on your screen.
See all switch plate covers here:
SOLD Rose Leaf Single Light Switch Cover Plate - https://goimagine.com/holidays...
Oak Leaf Single Light Switch Cover Plate - https://goimagine.com/holidays...
Birch Tree Leaf Single Light Switch Cover Plate - https://goimagine.com/holidays...
Redbud Heart-shape Leaf Single Light Switch Cover Plate - https://goimagine.com/home-and...
Double Switch Cover Black Locust Leaves over Sunrise Copper Enamel - https://goimagine.com/home-and...

Switch plate will be securely wrapped in padded material and shipped in a sturdy cardboard box.
Questions? Contact me. Be sure to read my Maker's Policies including Return Policy and other FAQ's.
Thank you for supporting an independent artist. Be kind, Take Care, and Fare Well.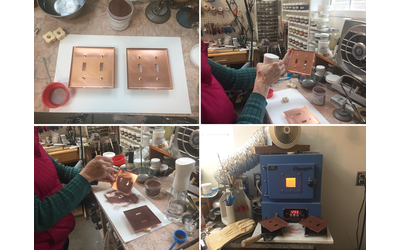 MATERIALS USED
Raw copper double pole light switch cover plate
Opaque and Transparent Lead-Free Vitreous Enamels
Leaves from Black Locust tree
TOOLS USED
Flex shaft, JoolTool, grinder, file, sander, buffer, Paragon Kiln, kiln trivet, leather gloves, sifters, pointy things

---
---
Copper is cleaned. Adhesive is sprayed on the back, counter enamel is sifted onto the copper, then placed in the kiln at 1450ºF for 2 minutes.
After firing counter enamel, copper is put in acid bath to remove fire scale from raw copper on the front, then cleaned with scrubbie and abrasive wheel. Adhesive is applied to the front surface, white enamel is applied, then back into the kiln it goes. Check out that respirator I'm wearing. One cannot be too careful in a metalsmith's studio.

Colorful transparent enamels are sifted onto the white surface, and fired again. Adhesive sprayed again, leaves are laid onto the surface, and white enamel is sifted over the leaves as a reverse stencil pattern. Leaves are carefully removed, a little touch-up with tiny brush and toothpick, then back into the kiln for final firing.

A little sanding and buffing on the edges - and voila! A double light switch cover plate in a beautiful leaf-stenciled sunrise pattern.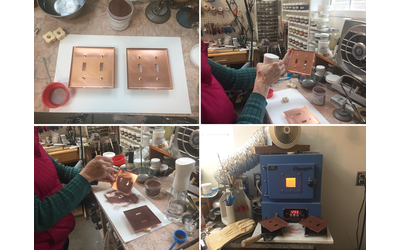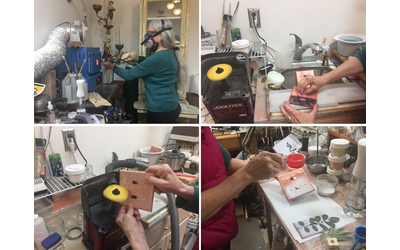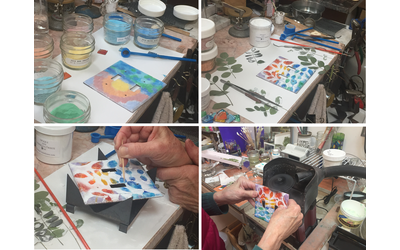 Welcome to my Wild Gatherings. I create metal art & jewelry using "old school" techniques; kiln- and torch-fired vitreous enamel on copper & silver; and gemstone jewelry & adornments. I enjoy re-purposing metals into items for decor or dress. I value integrity, transparency, & honesty. Be curious, ask questions. Think kind thoughts, take care, & fare well.
Shirley Walle ~ Torchsmith • Enamelist • Arcadian • Wonderer
Learn more about my story below the video ↓.
Continuing the Journey

I've lived in the beautiful Pacific Northwest since 1974. I love Oregon's high desert; the humbling Badlands of ancient Juniper Trees; Big Sagebrush (Artemisia tridentata), Indian Paintbrush (Castilleja), Woolly Mullein (Verbascum thapsus), and willow-saturated marshlands created by the ever-eager beaver. I also appreciate and become recharged within the dark and damp secrecy of Oregon's rain forests. Alright, enough with the poetic stuff. I won't tell you that I am "nature inspired" because, well, aren't we all? I like to fix things. I enjoy creating something out of very little. I thrive on being resourceful, inventive, innovative, and original.

My first soldering experience was for a school project at age 13 - a very intricate miniature three-wheeled surrey with moving wheels, a steering rod, and twisted-wire fringe on top. My dad, Willard, was very supportive of my "playing" in the garage. He would set me up with a soldering gun, a lathe, a saw, hammer and nails, or whatever I needed. I learned at an early age, by example, that I could do anything. If I didn't quite know how, I would figure it out.

My love for small things: For several years when I was little, we would visit my grandma and grandpa. The first thing I would do after arriving at their home was go into the kitchen to a special place on the counter to see if Grandma had saved any tiny bottles for me. The smaller the better, and they were like treasures to me. I still love tiny things and my little enameled copper bowls and tiny copper trinket boxes reflect this. I also still love tiny bottles ~ I used a tiny gem-filled bottle as the object chamber for one of my handmade kaleidoscopes. I also enjoyed painting miniature watercolors, the smaller the better.

WILD GATHERINGS ~ How Wild Gatherings came about: In 1993 I was preparing to engage in my very first craft booth at the local year-round Public Market in Salem, Oregon. I was creating lists of items that I could make to sell. On one of the lists were items I could collect in the wild such as seeds, sage, wildflower bouquets, etc. At the top of this particular list I entered the title, "Wild Gatherings". The name stuck and became all-encompassing for the many aspects of my craft. For the next ten years or so, I maintained an art & craft booth and participated in local Saturday Markets as well as art and craft shows in the Pacific Northwest and Southern-to-Northern California ~ offering a myriad of handmade creations: kaleidoscopes (copper or stained glass), obsidian needle chimes (I dug the obsidian needles myself at Davis Creek, CA), perfumes and soaps, copper olive oil lamps, geode aromatherapy diffusers, bud vases made out of old silverware, handmade cone incense [yes, I formed each cone, one at a time, by hand], beeswax & soy wax candles, and many other articrafts. My Wild Gatherings booth won the "Most Excellent Merchant's Display Of The Faire" at the 1997 Valhalla Renaissance Festival at Lake Tahoe. I was proud to be featured in local newspapers, as well.

I've been fascinated by copper and it's many uses. Back in the '80's my stepmom gifted me a small copper-enameling kiln along with some copper blanks and a few samplings of enamels. I kept it all, just in case I might want to do something with it some day.

Fast forward to 2014. I offered myself the choice to either part with my stash, or build a space where I could be creative with the materials that I had hoarded for so long. Thus, I built my atelier ~ complete with hot & cold running water, two skylights, a vaulted ceiling, and a crystal chandelier.

FORMAL TRAINING: I was an art major in school. For two years in the early nineties I trained with an old master Silversmith in the art of sterling silver lost wax casting and sterling fabrication. Through experimentation, detail observation, reading, successes, and many ah-hah! moments, I am primarily self taught with more than a half-century of experience.

FOR THE BLIND and/or VISUALLY IMPAIRED: For fourteen years I was a computer graphic artist, creating tactile graphics for higher education math textbooks for college students who are blind. I have read, cover to cover, dozens of calculus, algebra, physics, chemistry, and statistics textbooks, and created - on a computer - a tactile representation of every diagram in each book, complete with braille labels. The diagrams were embossed on a special braille printer and inserted into a [huge] braille rendition of the textbook. I incorporate Braille into some of my jewelry. The term "I am enough" is particularly appropriate.

I compose my one-of-a-kind jewelry from raw, reclaimed, or recycled copper; .999 fine silver; .935 Argentium Silver; .925 Sterling Silver; sterling findings; vitreous lead-free enamel powders and frit; re-claimed metals and materials; and, last but not least, 1500º-2000ºf of heat. I love fire ~ The power of a flaming torch ~ Liquefied glass & molten metals ~ Melding color-rich enamel to various substrates ~ Welding copper, casting silver, coating steel ~ Harnessing the power of the flame to create decor and wearable art of simplicity, rusticity, and flamboyance [I just had to get prosy, again...] I am not, necessarily, into perfection and refinement. Some of the jewelry and art pieces I create are rustic, organic, occasionally crusty, and sometimes portray an aged quality. I love wild things like lichen, moss, rough tree bark, insects, and flowing streams. I aspire for these rhythms and textural elements to be reflected in my work. Coarse, never boring, and ever-evolving. Thank you for supporting an independent artist, and for taking the time to learn what "handmade" truly means. Shop local. Buy from the people in your community. Support independent artists and businesses. Be kind, take care, and fare well.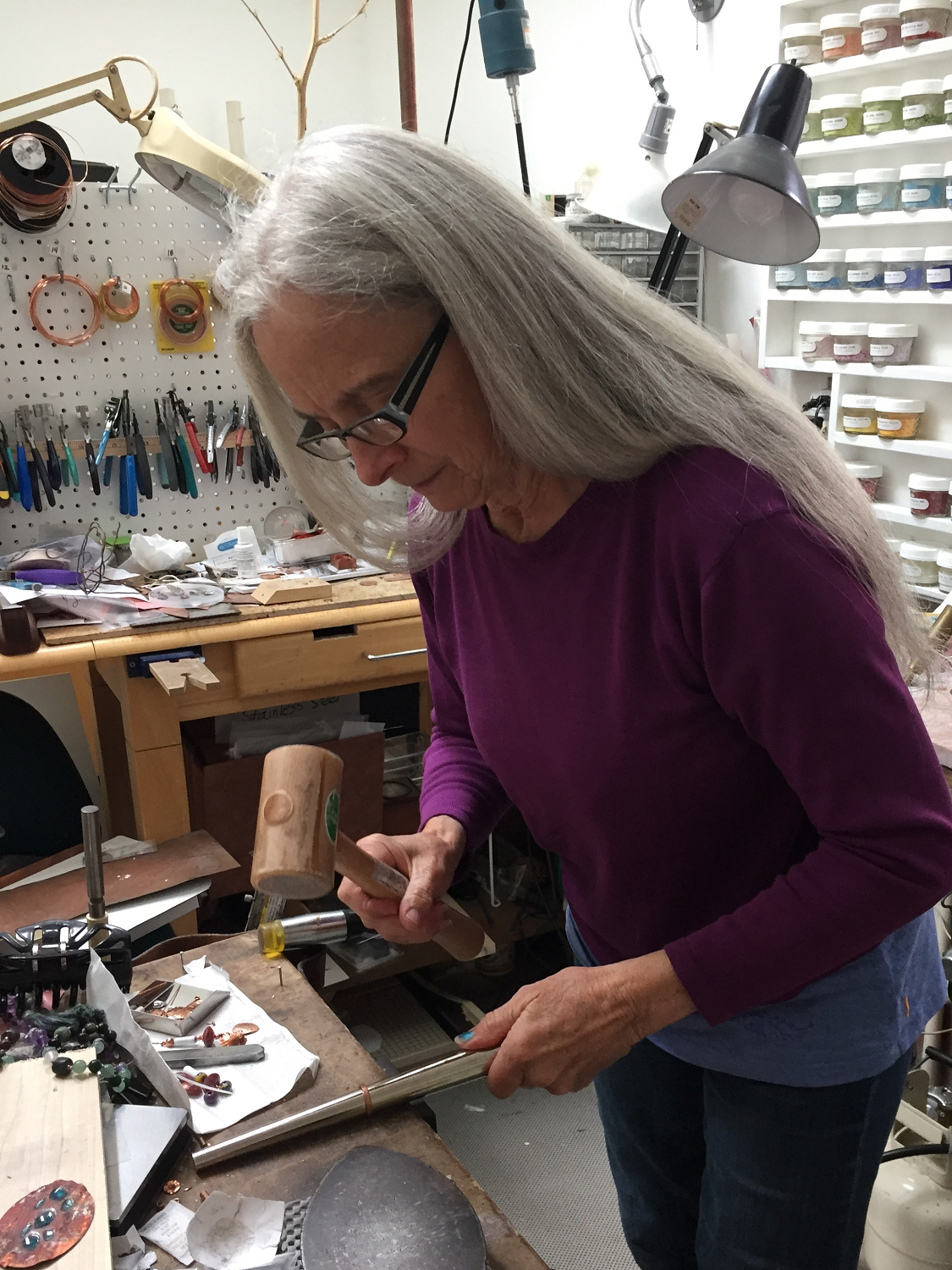 RETURNS & EXCHANGES

I do not accept returns, exchanges, or cancellations, but please contact me if you have any problems with your order. Descriptions and photos are as accurate and precise as I can make them. Please take the time to read each description and review the photos ~ some show size / relationship to common items such as dimes or quarters. I give accurate measurements in inches, and weight comparisons to common objects when needed. I don't want misunderstandings or disappointments. Information and communication are very important to me. If you're doubtful, PLEASE ASK. I'll be happy to answer any inquiries prior to your purchase. The only surprise I want you to have is when you feel that the item you purchased is even better in person! If an item arrives damaged or grossly misrepresented, please let me know as soon as possible. I will work with you to repair or replace the item. See RETURN POLICY below.
RETURN POLICY
DO NOT SEND THE ITEM BACK BEFORE CONTACTING ME. If I accept return of the item, please note the following: 1. Please contact me for a RETURN SHIPPING CODE. 2. The item MUST be shipped back to me in the original package and gift box, using the same shipping method by which it was shipped to you. Please provide me with the Tracking Number of the package. Return shipping fees are only refunded if the item was grossly misrepresented by me. 3. Once I receive the item, I will make an exchange, repair, or refund.
FREE USPS FIRST CLASS SHIPPING.

Shipping is via United States Postal Service (USPS) First Class mail, with tracking. Item will be shipped to the address on your account - please be sure that's where you want it to go! Notify me if you require shipping to an address other than what is on your account. You will receive a shipping notification and tracking number when the package ships. I usually ship no later than the next business day. If order is received prior to 12 noon, I can usually ship the same day. USPS First Class shipping includes tracking but does not include insurance. Buyer pays for shipping upgrades - please send me a message if you want to expedite or insure your shipment.
FAQ's
WHAT IS ARGENTIUM 935 STERLING SILVER
Argentium Sterling Silver has a higher fine silver content (93.5%) than Sterling Silver (92.5%). Argentium Sterling Silver is made from recycled silver, and is nickel free and hypoallergenic. It's Copper alloy content has been reduced and Fine Silver content is increased. A small amount of a metalloid, "germanium", is added, which helps reduce tarnishing as well as being more wearable for people who have sensitivities to copper.
EAR WIRE METALS
I make most of my ear wires and posts by hand, using Hypoallergenic .935 Argentium Sterling Silver, and .925 Sterling Silver. I also offer earwires made of 304 stainless steel. Each listing will outline all metals and other materials used in the particular pair of earrings, piece of jewelry, or object.
WHAT IS VITREOUS ENAMEL? - First and Foremost, IT'S NOT PAINT!
Vitreous enamel, sometimes called porcelain enamel, is a material made by fusing powdered glass to a substrate (silver, copper, gold, steel, etc.) by firing in a kiln or by a torch, at temperatures usually between 1,380º and 1,560°F (750º and 850°C). The powder melts, flows, and hardens when cooled to a smooth, durable vitreous coating of glass. Though stable for the most part, it is still GLASS, and it may crack or chip if dropped or mishandled. Please care for your enameled piece as you would any fine jewelry or art glass. Put your earrings on AFTER using hair spray or other products. Don't sleep or "rough-house" while wearing enamel jewelry. Please contact me if you have questions regarding the care of any of my work.
ENAMELING TECHNIQUES
CLOISONNÉ. Compartments (cloisons) are added to a metal object by soldering or affixing thin metal wires which remain visible in the finished piece, separating different colors of enamel. CHAMPLEVÉ. Cells are etched/carved into the surface of metal & filled with enamel. Un-carved portions of the metal surface remain visible as a frame for the enamel designs, similar to Cloisonné.
PLIQUE-À-JOUR. French for "light of day". Similar to cloisonné, but with no backing in the final product so that light may shine through the transparent enamel like a stained-glass window.
BASSE-TAILLE. A design is engraved, etched, or impressed in metal, & fired with translucent enamel, allowing light to reflect from the edges of the designs through the enamel.
COPPER and GREEN SKIN
Green Happens! Wearing copper can and most likely will cause one's skin to turn dark or green if worn in contact with skin for an extended period of time. Don't be surprised at this. It's what copper does. There is nothing "wrong" with it or you. It might happen more to some people than to others, depending upon the nature of one's skin and what the copper jewelry is being subjected to. I occasionally visit hot springs in Eastern Oregon where the water contains sulfur and other minerals. My copper and silver rings turn black and my finger is green under the rings. It's just what it does. No biggie. Of course, if you don't like that or if you are allergic to copper, then copper or sterling silver [sterling silver contains copper] jewelry is NOT for you.
PATINA and TARNISH, Good or Bad?
I love the deep rich chestnut- or mahogany-colored patina of aged copper. The rustic nature of some of my craft reflects this. Copper and silver will tarnish and change color over time, which may be accelerated by frequent handling and use. This adds to the uniqueness of the item. If desired, the original color of the metals may be restored with a polishing cloth. Argentium .935 Sterling Silver is more resistant to tarnish, and, because of the reduced copper content as well as the addition of germanium, it is less allergenic for those who are sensitive to copper. I will include a small piece of polishing cloth with each tarnishable item purchased. Both sides of the cloth may be used over and over and will still work, even if it turns dark.